Strongsville Brewery Most Awarded at International Beer Fest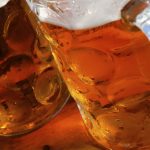 The Brew Kettle in Strongsville took part in the International Beer Fest held on May 13 and 14 at the I-X Center, garnering praise for their delicious concoctions.
They won a total of eight awards for their beers, including "Best in Show" for their White Rajah, an Indian pale ale.
Chris McKim, co-owner of The Brew Kettle, said, "It certainly says something for drinking good, fresh beer."
Around 200 breweries participated in the event, but The Brew Kettle took home the most number of honors. Other award-winning brews were Old 21, Quik Kriek, Black Jack, Tunguska, Four C's and Chief's Rye.
The Brew Kettle competes every year in the Great American Beer Festival in Denver, as well as in smaller events. According to McKim, this was the business' best showing at a judged event.
He said, "If nothing else, it reaffirms who you are and what you're doing."
He went on to add that the event was a memorable experience for everyone.
"Everybody seemed to be having a really good time with the whole thing," he said.
It was the first time the International Beer Fest was held at the I-X Center. The expansive floor featured 200 renowned breweries from around the world pouring upwards of 800 select beers during three public tasting sessions. Appearances were made by celebrity brewers, authors and personalities who shared enlightening industry insights. Educational programming abounded at Brew U, where beer-centric demonstrations and discussions highlighted trends in home brewing, regional developments and green brewing. The Tasting Room offered seminars on food and beer pairings, identifying beer flavors, and more.
"Everybody seemed to be having a really good time with the whole thing," said McKim.