Strongsville City Officials Hope to Push Through with Signs on I-71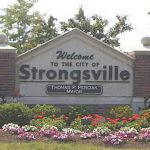 City officials hope to push through this year with plans to put up signs on Interstate 71 informing passing motorists that they are in Strongsville.
Plans include having masonry signs that say "Strongsville" built in landscaped planting areas on each side of the Royalton Road, with one sign visible to northbound traffic and the other sign visible to southbound traffic.
Council President Mike Daymut said, "I think it will give Strongsville the recognition it deserves as the true crossroads of the nation."
The city has been planning these signs for a few years now. According to Economic Development Director Brent Painter, the plans have already been approved by the Ohio Department of Transportation, however local officials are said to be unhappy with the state's requirements for placement.
The city had originally wanted the signs placed off the right side of Interstate 71, so that passing motorists would see them adjacent to their lane of travel. ODOT has stated that they should go on the left, but Painter said, "ODOT is considering a new request to have the signs where the city wanted them."
The city's coordinator of natural resources Jennifer Milbrandt explained that the state's rejection to have the signs placed on the right side of the road was due to safety reasons. She said the signs will be located in a landscaped area, and that they city is hoping to get a grant for the landscaping.
According to Milbrandt, the signs will cost around $200, 000, with costs to be covered through donations.