Strongsville Rotary to Hold Annual Fun Run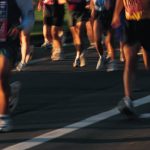 The Rotary Club of Strongsville will be holding its third annual RUN4Fun event on Saturday, May 21.
Registration will start at 4:15pm and the race will begin at 5:30pm. The pre-registration fee is $20, while registration at the event is $25. Participants who pre-register will receive a custom t-shirt, a goodie bag and refreshments. Registration can be done either by mail or by going online and visiting the website http://www.hermescleveland.com. Click on the Road Racing screen, then click on Schedule of Events and choose May 21, 2011.
The starting and finishing point of the race will be at Pathways Church, which is located at the corner of Prospect and Drake roads (the old Strongsville recreational center). It will be a 5km (3.1 mile) "Predict Your Time" run or walk, so electronic devices such as iPods, heart monitors, cell phones, watches and GPS units will not be allowed.
The top three finishers in each age bracket who are closest to their predicted time will be awarded. More than a hundred prizes will also be randomly given out to participants. After the event, a post-race party is set to take place at Molly McGhee's Sports Pub on 13169 Prospect Rd.
Proceeds from the event will go to support Boys Hope Girls Hope, an organization dedicated to providing stability, support, and scholarships to bright and motivated children from challengin circumstances.