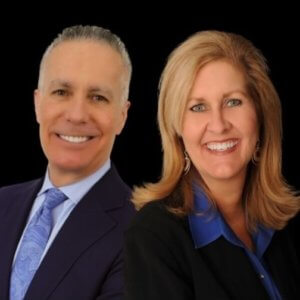 Ron & Kristina Dugas are full-time real estate agents who recently joined The Incorvaia Team.
Ron Dugas | REALTOR ®
Ron is a Financial Services Consultant with over 35 years of Financial Services experience. He holds a Bachelor of Science degree in Finance and a MBA. Ron together with his business partner and wife, Kristina Dugas were one of four Investors who started the Keller Williams Greater Cleveland Southeast Market Center in Solon Ohio. Ron's financial acumen combined with his extensive knowledge of real estate markets and Kristina's direct residential realtor experience of over 25 years positions them well to meet the ever changing needs of their Clients. Ron is a licensed realtor and a Member of the National Association of REALTORS (NAR), Ohio Association of REALTORS (OAR) and the Akron Cleveland Association of REALTORS (ACAR).
Kristina Dugas | REALTOR ®
Kristina has a Bachelor of Science degree in Business Administration, Accounting. She worked as a Certified Pension Administrator before moving to the Cleveland area. A licensed REALTOR since 1996, Kristina loves working with people in making their real estate experience a positive one! She uses her accounting skills of being detailed & organized along with her communication skills to ensure a "smooth" transaction. Her number one goal is to have her clients completely satisfied during the process and long after the sale closes.
Kristina joined the Keller Williams family in 2002 when they first opened their doors in the Cleveland area. In 2009, due to her love for the company she became one of the investors and helped open the Keller Williams Greater Cleveland Southeast Market Center in Solon, Ohio. Kristina has achieved many real estate awards in sales and service throughout her real estate career. She is a Member of the National Association of REALTORS (NAR), Ohio Association of REALTORS (OAR) and the Akron Cleveland Association of REALTORS (ACAR)