3 Keys To Successful Homebuying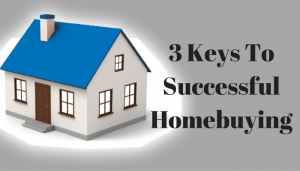 One can say that there is no such thing as completely stress-free homebuying experience, but following these steps can significantly reduce your stress to some small doses of natural anxiety.
1. Know Your True Price Range
 You can easily reduce future stress by not spending more than you can truly afford. There are some standard rules of thumb concerning what you can afford, but talking to a professional in the finance industry may be the best way to get the most accurate price range that your income allows. Your future self will thank you endlessly for being fiscally responsible.
 2. Prepare For It
With the variety of features in any given home, it's easy to get swept off your feet by something like an amazing garden or a pool or a home theatre, but don't forget about the features you absolutely need. If you're starting a family you probably don't want to consider a home with less than two bedrooms, no matter how cool the kitchen looks. Here's a real source of stress: You may end up buying a home that's too small today so in 3 years you have to choose between buying another new home or forcing all your children to stay in one room. Long story short, don't pass up things you need for things you want!
3. Trust The Professionals
 It's no secret that a lot of work goes into the home search process as well as the home purchasing process, but not all of that work should fall on you. With all the paperwork and things to attend to, it may be difficult to let go to a certain extent, but allowing professionals to do what they do is a surefire way to reduce your stress. Trust that you've done your research and selected the right professionals to facilitate this process, and you'll be happy you did.
If you are planning to sell your home, let The Incorvaia Team make the process as easy as possible for you. Call us today!