Brecksville, Ohio, is purposefully small, enriched with a deep sense of community spirit. It's a hushed city nestled amidst a canopy of trees and open green spaces.
The area is peppered with spacious homes of various styles resting on well-manicured lawns.
Schools in Brecksville are award-winning schools that are highly rated and consistently named among the top schools in the nation.
Brecksville is home to a variety of unique boutiques and shops, spas and salons, a golf course, and other things to do. And, with its proximity to Cleveland, Brecksville offers easy to access a plethora of restaurants, shops, entertainment, art and culture, indoor and outdoor recreation, and more.
Things to Do in Brecksville
The Brecksville community hosts a variety of community clubs and events, including Brecksville Beautification, Brecksville Women's Club, Chippewa Garden Club, the Emerald Necklace Garden Club, and the Preschool Mother's Club.
One-third of the Brecksville community is comprised of parks, including "Metroparks," also known as the Emerald Necklace, across from Cuyahoga Valley National Park.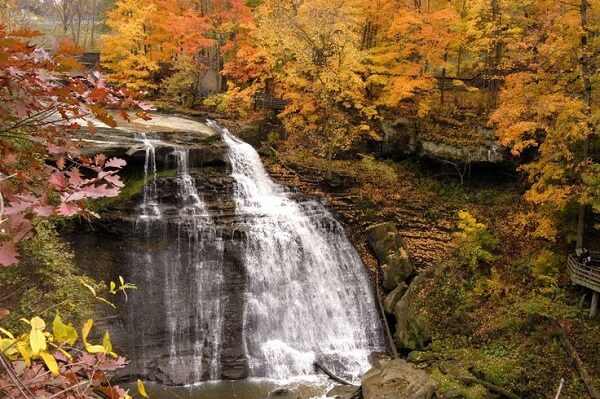 Two theatres entertained Brecksville beginning as a non-profit in 1949 with the opening of the Brecksville Theatre and enhanced by the building in 1975 of the Brecksville Theatre on the Square. Today, those companies have merged to form the Brecksville Center for the Arts.
Sleepy Hollow Golf Course is the perfect way to spend a day relaxing on the greens without traveling far from home. However, there are dozens of public and private golf courses and clubs throughout the surrounding areas.
The state-of-the-art community center is equipped with an outdoor swimming pool, indoor therapy pool, basketball court, indoor track, fitness center billiards, and a play area for kids.
Homes for Sale in Brecksville
Schools in Brecksville
The district earned its place as 7th best in the state of Ohio, and rated 5th in the Cleveland-Akron-Canton Consolidated Metropolitan Statistical area.
Brecksville-Broadview Heights School District governs students attending public schools in Brecksville. Within the district, there are three elementary schools, an intermediate school, a middle school, and a high school.
The high school, Brecksville-Broadview Heights High School, was ranted in the top four percent for most challenging high schools by the Washington Post. Consistently, the school also ranks in the time five percent of high schools in the country, stated by U.S. News and World Report.
Brecksville-Broadview Heights is also recognized for championship athletics.
Brecksville is also home to one private school, South Suburban Montessori School, but there are dozens of private schools throughout surrounding areas.
There are also more than 100 colleges and universities within 100 miles of Brecksville.
The Climate in Brecksville
All four seasons present themselves in full, colorful glory in Brecksville, creating ideal conditions for year-round outdoor activities.
Brecksville soaks in sunshine 164 days each year, producing high summer temperatures of a comfortable 83 degrees.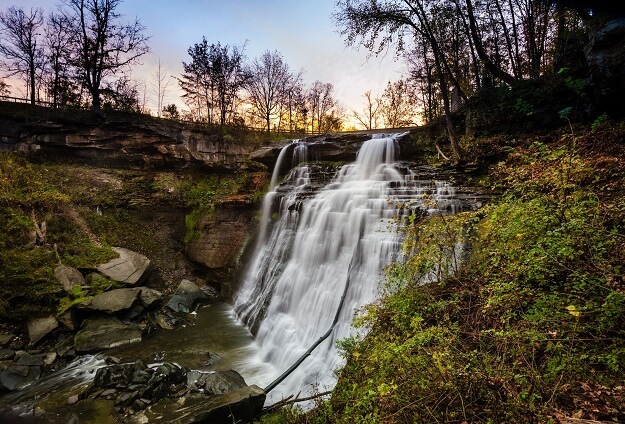 There are around 138 days in Brecksville with some form of measurable precipitation. Collectively, the precipitation equates to a total of 38 inches of rain and 53 inches of snow. Winter low temperatures fall below freezing at 22 degrees.
Transportation in Brecksville
The Greater Cleveland Regional Transit Authority manages the bus system in Brecksville.
Uber and Lyft rideshare services are also easily accessible for curb-to-curb service.
For air travel, residents and guests rely on the Cleveland-Hopkins International Airport or the privately owned but publicly used Columbia Airport in Columbia Station.
Living in Brecksville
Brecksville, spanning 19.6 square miles in Cuyahoga County, is along Lake Erie in northeast Ohio.
There are approximately 13,632 residents making themselves at home in Brecksville's 44141 and 44147 zip codes.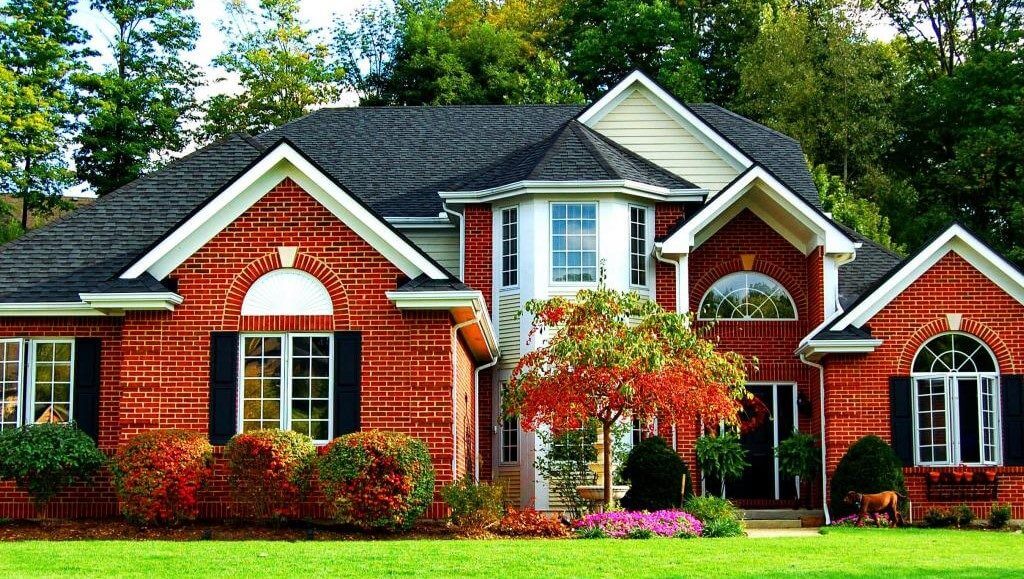 Among its residents, the Brecksville annual median household income is around $90,000, considerably above the state's median household income of $54,021, which creates a comfortable lifestyle.
Homes in the area are of various styles – some older with charming character, others stately new construction. The median home value in Brecksville is $252,156, compared to the Ohio median home value of 144,200.
Conclusion
The city is well-respected for its highly-rated, award-winning school district and schools, consistently named among the best in the state and in the country.
Brecksville, Ohio, offers a comfortable lifestyle nestled amidst mature trees, separated from the noise and congestion of bigger cities – and yet close enough to take full advantage of the offerings and amenities nearby.
There's an endless array of entertainment, art and culture, fine and casual dining, recreation, and more – all within 30 minutes from home.
When you're ready to relax into a cozy lifestyle in the country, consider Brecksville, Ohio, as your next home.
Have Questions? Ask The Incorvaia Team!
The Incorvaia Team is the best source of information about the local community and real estate topics. Give us a call today at 440-879-7130 to learn more about local areas, discuss selling a house, or tour available homes for sale.