Strongsville holds its fourth annual Shred Day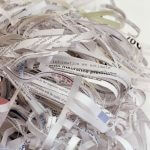 The city of Strongsville recently held its fourth annual Shred Day, with residents dumping more than 16 tons of paper, which was almost double the amount from last year.
Strongsville's Coordinator of Natural Resources Jennifer Milbrandt said, "We ended up having to turn people away (because) the trucks were full." She added that this year's event was an "overwhelming success".
The event was held in the parking lot of the Strongsville Branch Library on April 30. Volunteers helped to unload boxes of paper for shredding, which was then dumped into large recyling containers, then fed into a secure shredding machine.
In 2009, people brought in around seven tons of paper for shredding. Last year, almost 400 cars drove through, and a total of nine tons of shredded paper was taken away by Gateway Recycling.
Milbrandt said the next Shred Day is scheduled to take place on October 15.