Berea, Ohio, situated about 12 miles of Cleveland, is a small town with a rich history in unique sandstone quarries, for which the area gained its fame and the rocks became known world-wide as Berea Stone.
Berea has an excellent school system, an efficient transportation system, and is bursting at the seams with activities and things to do. And, with its proximity to Cleveland, residents have access to an endless array of entertainment, recreation, shopping, and dining.
Things to do in Berea
Berea may have a small-town feel, but its no stranger to big time fun. There are a wide variety of things to do in and around Berea.
The city hosts a variety of annual and seasonal events, most of which are held at the area's jewel, Coe Lake, including Band concerts at the Gazebo, Berea summer theater, Cuyahoga County Fair, Grindstone festival, and the Light Up Berea Holiday Parade featuring Santa Claus.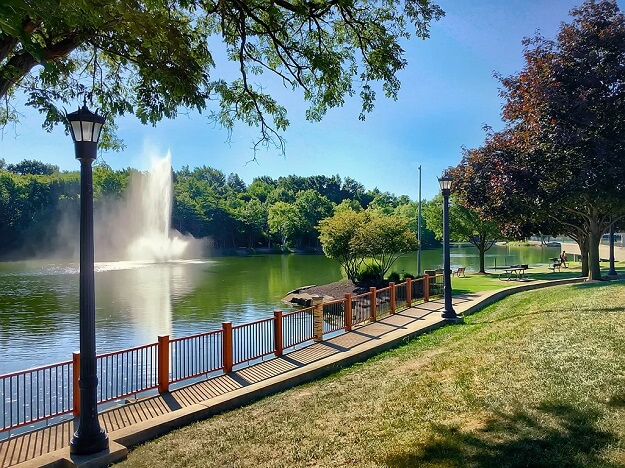 The area's recreation center is a favorite hot spot for locals. Take advantage of the indoor pool, eight and exercise rooms, basketball court, running track, and more, including organized events. The rec center also has locker rooms with showers and a sauna.
Ready to shop? Berea has you covered with five popular shopping areas, including Berea Commons and Downtown Triangle, Parkside Shoppes, West Valley Plaza, Berea Plaza, and the North End.
In the mood for a round of golf? Within ten miles of the city, there are more than two dozen golf courses and country clubs.
Access the Berea branch of the Cuyahoga County Public Library.
Berea is home to a total of six parks in addition to Coe Lake. Wallace Lake is also a popular favorite for swimming, fishing, and other water-related activities.
And, for the sports buffs, Berea is the training ground for the Cleveland Browns.
Homes for Sale in Berea
Schools in Berea
The Berea City School District manages the public schools in the city of Berea, Ohio.
Within the district, the schools includeGrindstone Elementary, Brookview Elementary, Brookpark Memorial, and Big Creek Elementary. Middle school students attend Berea-Midpark Middle School while high school students attend Berea-Midpark High School.
Berea is also home to two Catholic schools, including St. Mary's, established in 1860, and St. Adelburt's, established in 1873.
Additionally, Berea houses the Baldwin Wallace University. There are also dozens of colleges and universities within the proximity of Berea.
The Climate in Berea
During the average year, Berea enjoys 164 days saturated in sunshine. High temperatures in summer hover at a comfortable 84 degrees.
The area receives approximately 39 inches of rain annually, and with winter temperatures falling to below freezing at 21 degrees, Berea also gets 53 inches of snow each year.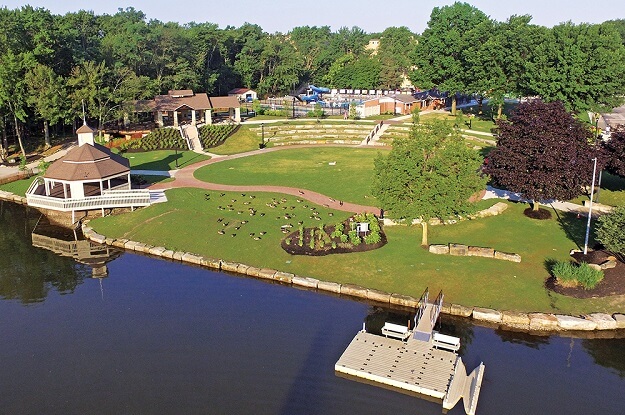 Transportation in Berea
Berea is just minutes away from International highways for easy access to the city and surrounding areas.
Public transportation is available through the RTA, the Greater Cleveland Regional Transit Authority.
Senior citizens living in Berea can call on "Jitney," a service to transport seniors to doctor appointments, shopping, and other errands.
Uber and Lyft rideshare services are also available in Berea.
Residents and guests traveling by air are just two miles south of the Hopkins International Airport in Cleveland.
Living in Berea
Situated in Cuyahoga County, Berea is a western suburb of Cleveland along Lake Erie in Northeast Ohio.
The city spans just 5.46 miles in the 44017 zip code and is home to an estimated 19,000 residents.
Among Berea's residents, the annual median household income is around $54,585, right on par with the state's average median household income of $54,021.
Berea is comprised of well-established homes like century style homes and modest bungalows on streets lined with mature maple and oak trees, to new construction and executive style homes.
The median home value in Berea is about $141,987, just slightly above the Ohio median home value of $144,200.
Conclusion
Living in Berea has the feeling of small town charm, but all the creature comforts of big city amenities.
The area is proud of its highly respected schools, and its festive spirited community events.
With easy access to buses, rideshare services, and just moments from an International airport, it's easy to get in, around, and out of town.
When you're ready to settle in to a cozy lifestyle full of community spirit and all-American appeal, then you're ready to move home to Berea, Ohio.
Have Questions? Ask The Incorvaia Team!
The Incorvaia Team is the best source of information about the local community and real estate topics. Give us a call today at 440-879-7130 to learn more about local areas, discuss selling a house, or tour available homes for sale.