15 Tips To Consider In Your Home Search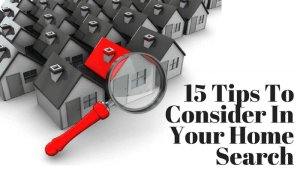 Here are some pointers for looking at properties, whether at open houses or private showings with an agent.
First, don't look at homes over your budget. That's just frustrating. Set your search parameters within your budget, and remember to leave some wiggle room if you're in a hot market and might have to bump up your offer.
Take an extra set of eyes, someone with excellent attention to detail. But don't bring a group of experts; one spare opinion is plenty.
Find out why the seller is leaving. The circumstances may provide useful insight, especially regarding how motivated the seller may be — such as when a job relocation or divorce is involved.
Walk through the home twice. You'll be surprised by what you notice on the second go-round.
Open every door, even if you think it's just a closet. Hey, it might be a closet! You know how important those are.
Take notes, keep a list of the things you like and don't like, and compare them to your list of what you need and want in a home.
Snap a few photos (but ask permission first).
Bring a tape measure. That way you'll know if your dining table, bed or sofa will fit in a room.
Pay attention to outside noise. If quiet enjoyment of your home is a priority, stick around long enough to get a sense of what you'll hear in the neighborhood — whether it's noisy neighbors or landing airplanes.
Use Google Maps to check the neighborhood view from above. (Yikes! There's a landfill/railroad tracks/drainage ditch right there?) Google Earth has a "light meter" feature that shows sun exposure, too.
In older homes, pay close attention to the location and number of electrical outlets, storage and other modern conveniences that are sometimes in short supply. Remember that do-it-yourself projects can be more hassle than you think. Don't assume you can fix everything that's wrong with a house.
If you use a real estate agent and he isn't listening to you — by showing you houses, neighborhoods or price ranges you specifically said you aren't interested in — change agents. It's a waste of your time and the agent's.
When you finally narrow down your list of homes to the top contenders, break the tie by driving your morning commute from each location, visiting the neighborhoods at night and on a weekend, and walking the streets. You'll know when it's right.
If you are planning to sell your home, let The Incorvaia Team make the process as easy as possible for you. Call us today!