Downtown Cleveland Restaurant Week kicks off Feb. 22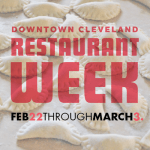 The sixth annual Downtown Cleveland Restaurant Week will kick off on Friday, February 22, but although this will be the sixth year running for the popular event, 2013's installment will feature several firsts.
First off, the event will stretch over two weekends for the first time ever, running through Sunday, March 3. This year's celebration of downtown dining will also have a theme, namely "Pierogi Power," as an ode to Cleveland's unofficial signature food. Local chefs have been invited to create their own unique take on the tasty stuffed treat.
Also for the first time, there will be a kick-off party. Sponsored by Downtown Cleveland Alliance, the party will be in keeping with this year's Polish theme, and is called "Go Fourth and Polka." The highlight of the event will be DJ Kishka's live polka entertainment set during happy hour on Friday, February 22 in the middle of East Fourth Street.
Aside from these few exciting new changes, the premise of Downtown Cleveland Restaurant Week will remain the same: more than 40 participating restaurants will offer three-course prix-fixe dinner menus prices at $30. Each restaurant will serve their own choice of specials, with some of them offering mix-and-match options as well as prix-fixe lunches, most of which are priced at $15.
For those who love food and all things Cleveland, Downtown Cleveland Restaurant Week is a great way to celebrate eating in the city. For more information, please visit downtowncleveland.com.