Strongsville is a vibrant community in northeastern Ohio that celebrates its past while enjoying the present, and developing the future.
The close-knit community, with a strong business sense, knows that life is also about playing! In Strongsville, Ohio, there are plenty of things to do, indoors or out, year-round. And, for all ages.
The Ehrnfelt Recreation and Senior Center
The Ehrnfelt Recreation and Senior Center is a great way to spend a day with the whole family for fun, fitness, and education. The center offers programs for toddlers through seniors.
The rec center is equipped with state of the art fitness amenities such as a full gym, an aquatic center, and a yoga studio. Check out the competition pool, play a game of baseball or air hockey, or relax in the sauna.
Check out what special programs and classes are available for you and your family. And, when you've worked up an appetite, grab a bite on-site at the Crossroads Cafe.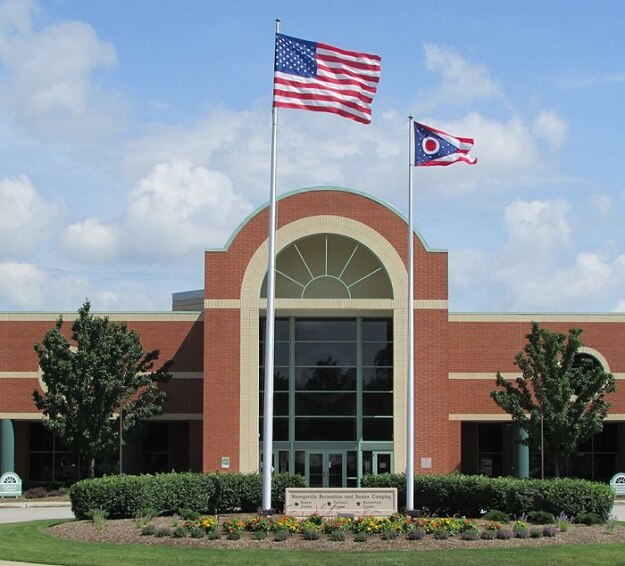 Parks in Strongsville, Ohio
There are a total of nine parks in the city limits of Strongsville that offer an array of amenities such as baseball fields, basketball courts, playgrounds, and pavilions.
One of the most noteworthy parks in the area is called the Backyard Preserve, situated behind the rec center, complete with an outdoor amphitheater and walking trails.
Another local favorite is Volunteer Park Fields, complete with batting cages, horseshoe pits, bocci ball courts, playgrounds, a paved walking path, Pavilion with picnic areas, and vending machines.
Gardenview Horticultural Park
What began in 1949 as a modest garden has grown to become one of the jewels of the Strongsville community.
The botanical garden and arboretum, spanning 16 acres of English cottage-style rare plants and flowers, has earned a reputation of being one of the most inspiring gardens in the world.
The Strongsville Branch of the Cuyahoga County Public Library
The Strongsville Branch of the Cuyahoga County Public Library isn't what libraries used to be! Although you can still certainly check out a book or read in a quiet nook, the library offers so much more.
The library presents story time for kids, print, ebook, and audiobooks for teens, as well as classes and events for adults.
For example, join a book club, meet authors at author visits, attend a writing workshop, or take a computer class. There's always something new to do at the Strongsville Branch of the Cuyahoga County Public Library.
The Strongsville Historical Society Village
The Strongsville Historical Society does an outstanding job of preserving Strongsville's rich history. The society maintains a historical village comprised of eight buildings. Some of the buildings stand on their original sites while others were relocated.
The village, representing the timeline of 1822-1904, creates a unique experience where you can tour the houses that represent a variety of architectural styles, historical tales, and modern treasures. Buildings include a general store, private school, the Velda Chapman Doll Museum, a Victorian-era museum, and more.
Go Ape Zipline and Adventure Park
The Go Ape Zipline and Adventure Park is the place to be when you've got a hunger for excitement and adrenaline to burn. Start your adventure climbing through the forest canopy in a 2-3 hour journey in the treetops.
Next, take a dive from the heights for a free-fall from the Monkey Drop jump line, or test your skills at throwing axes.
Toboggan Chutes at the Chalet at Mill Stream Run Reservation
Whether or not there's snow, you can zip at high speeds down refrigerated ice chutes in toboggans. There are two 700-foot rides, but that's not all that the multi-level Chalet has to offer.
Heat your fingers, nose and toes at the indoor or outdoor fireplaces, grab a snack at the concession stand, relax in front of two big-screen televisions, or hang out on the second level in a heated loft for a bird's eye view overlooking the chutes.
OBM Arena
The OBM Arena is an ice wonderland for sports and playing on the ice. With two sheets of NHL Ice, it's perfect for hosting adult league hockey, high school hockey, and figure skating.
Of course, there's ice skating just for fun, too. And, there's a studio rink. In addition to the ice, the OBM Arena features a game room, a ballet room, a special event gathering space, a bar, and a cafe.
Escape Room Strongsville
The Escape Room Strongsville location is a fantastic venue for family, friends, or as a teambuilding adventure for businesses.
The object of the game is to be assigned to a locked room. To unlock the door, your team must solve the clues.
Each experience has a theme so you can choose adventures like the Super Heroes, Bomb Squad, Crime Scene Investigation, The Chocolate Factory, and the Black and White Room.
Maggie & Ellie's Pottery and Art Studio
Let your muse out for creative play at Maggie & Ellie's Pottery and Art Studio. Add a bit of sparkle to your life by painting your own pottery. There are over 150 shapes from which to choose.
There are also opportunities for glass fusing, canvas painting, board art, and an extensive design center that provides stencils, stamps, and idea books. Maggie & Ellie's also offers a private party room for parties and special events.
Painting with a Twist
Painting with a Twist isn't just about paint and sip experiences for adults. There are family-friendly sessions, including opportunities for children to paint their pets.
Some adult-themed paintings include Galaxy Moonrise, Celestial Moon, and couples art, where the two canvases join to make a single piece of artwork.
Cinemark Movie Theater
Grab a buddy, a bucket of popcorn, a few snacks, and a soda to settle in for a flick.
Catch the latest blockbuster hits, or take in the classics as you relax in a darkened theater ready for a virtual experience.
The Cinemark Movie Theater is located in the Southpark Mall.
Shopping in Strongsville, Ohio
There are plenty of places to pick up the necessities, shop for a gift, or pick up something special for yourself.
Strongsville is home to several shopping areas, including Strongsville Town Center,
The Greens at Strongsville, The Plaza at Southpark, Crossroads Market Plaza, Strongsville Point, and the Southpark Mall.
Dining Out in Strongsville
No matter what type of flavor you're craving, you can find it in Strongsville, Ohio.
Not only are there classic favorites like Longhorn Steakhouse, O'Charley's, and Applebees, you'll also find an eclectic collection of unique locally owned and operated restaurants for casual or fine dining.
Golf Near Strongsville
Although Strongsville doesn't have any golf courses within its city limits, there are dozens of public and private golf courses and clubs in surrounding areas.
Conclusion
Strongsville, Ohio, is a fantastic city to work and go to school in, but it's also a wonderland of playful adventures waiting to happen.
Whether you're looking for a tranquil walk in the garden, a step back in time, or climb in the treetops, there are a plethora of things to do for everyone in Strongsville, Ohio.
Have Questions? Ask The Incorvaia Team!
The Incorvaia Team is the best source of information about the local community and real estate topics. Give us a call today at 440-879-7130 to learn more about local areas, discuss selling a house, or tour available homes for sale.