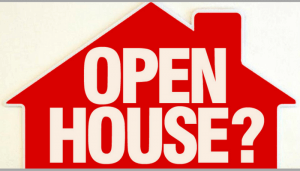 Attending an open house can be a bit overwhelming at first, especially if it's crowded and hectic. But if you consider the following advice, you'll be ahead of the pack and gain some great insights.
The Environment 
The focus of the open house may be the house itself but there's more to a home than just the structure itself. You should remember to make note of the neighborhood as a whole, the condition of nearby homes, the neighbors, etc. If you have children, another major factor should be the distance of the commute to the school your kids would attend, as well as your place of work, and places you'll frequent like the grocery or hardware stores, etc.
The Exterior of The Home
The exterior of any home will tell you a lot. Things like staging can distract from issues inside. Take a quick stroll around the house; you should get a good idea of how well the current occupants have taken care of it. Do you need to repaint the house once you move in? Does it look like the roof hasn't had any work in a while? Any of these variables will be good to know and should factor into your decision.
Ask Questions
Most of the time, open houses will attract nearby neighborhoods. Perhaps they're wondering what their house could sell for in the future or maybe they're just really curious. Either way, if you hear someone mention that they live down the street, it might be a good idea to introduce yourself and get an insider's perspective on what the neighborhood is really like.
Storage Space
You will definitely check out the closet space in a home, but not all storage lands in the closet. An attic space, especially spacious walk-in closet, or outdoor storage space could be a huge plus, especially if you're downsizing a bit. Storage space is something you don't realize how much you need until it's too late.
If you are planning to sell your home, let The Incorvaia Team make the process as easy as possible for you. Call us today!