Most Value-Added Renovations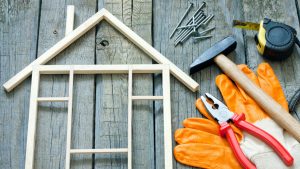 Whether you are planning to sell your home soon or you are looking to build long-term equity on your home, you may be one of the many homeowners who are interested in adding value to their home. If you are considering doing some renovations on your home, here are the top items you can renovate to make sure you get the highest return on your investment:
1. Flooring. Hardwood floors are one of the top most requested features buyers and tenants mention when they're looking for a home. It's not hard to see why, beautiful hardwood floors are gorgeous and give a home a wonderful, timeless feel; not to mention they are extremely durable and can stand a lot of wear and tear. However, they can also be quite expensive to put in, so be sure to think it carefully through before deciding to spend big money on new hardwood floors. If you don't quite have the budget for hardwood floors, you may want to consider laminate, as there are plenty of great options for you these days. Ultimately, whatever you decide to go with, updated flooring will always bring new life to your home and give it a fresh new feel.
2. Bathrooms. Nothing screams grandma's house more than pastel pink or blue, seashell tiles or fuzzy toilet seat covers, so unless that's exactly the look you're going for, you may want to consider re-doing your bathrooms. In a recent consumer survey, people were asked to describe their dream bathroom, and more than 90% of respondents used the words "spa-like." This means a calm and soothing, neutral color scheme, clean lines and minimalist decor, and modern materials. You may be worried about the cost of renovating your bathrooms, but since they are smaller rooms, they will need less material. Consider zeroing on a focal point like a unique choice of tile or sink and build the rest of the space around that.
3. Kitchen. This is obviously a big-ticket item, and not everyone has the big bucks to take on a whole kitchen renovation, but there are always ways to upgrade your kitchen even on a realistic budget. Instead of investing in custom cabinets, consider customizing out-of-the-box cabinetry to fit your kitchen layout, and instead of granite, consider other more affordable yet equally attractive alternatives such as butcher block and composites.
If you are planning to sell your home, let The Incorvaia Team make the process as easy as possible for you. Call us at 440-879-7130 today!