Start Training for the Triathlon Today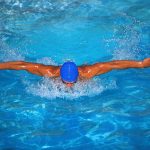 The Recreation Department of Strongsville will be hosting its sixth annual triathlon on August 20.
To help get racers in shape before the big day, the rec center is offering specialized spinning classes along with run clubs and private swim lessons designed specifically to hone your skills for the event.
During the program, Head Coach Juan Pacheco will meet with participants in a group setting three times to give them a chance to ask questions or raise any concerns.
Registration for the triathlon will begin on August 10. The cost is $35 for residents who are rec center members, $40 for resident non-members and $45 for non-resident non-members. The race will be limited to 40 participants. The registration fee includes a t-shirt, triathlon-designed exercise program and post-triathlon refreshments.
The race will inclue a half-mile swim in the Ehrnfelt Recreation Center pool, a 10-mile spin ride on a stationary bike, and ends with a 5k run around Strongsville. Awards will be given to the top finishers.