Top 5 Reasons You Should Not Sell Your House On Your Own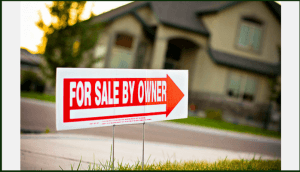 In today's market, with homes selling quickly and prices ever-changing, some home sellers might consider trying to sell their home on their own also known as a For Sale by Owner (FSBO). There are several reasons this might not be a good idea for the vast majority of homeowners.
Here are five of those reasons:
1. Too Many People To Negotiate With
Here are some of the people you must be prepared to negotiate if you decide to sell your house on your own:
– The buyer who is focused on getting the best deal possible
– The buyer's agent who solely represents the best interest of the buyer
– The buyer's attorney (in some cases)
– The home inspection companies, which work for the buyer and will, more often than not, find problems with the house
– The appraiser if there are questions of value
2. Social Media Marketing
In recent studies, it has shown that 89% of buyers initially search online for a home. This is in comparison to only 20% looking at print newspaper ads, which was the trend before. Given the technology that we now have, this is the most convenient way to find a home. And this will continue to grow. Most real estate agents nowadays have an internet strategies to promote the sale of a home. You have to consider that having this aspect is definitely an advantage.
Buyer's Source of Prospective Homes:
– 44% -> on the Internet
– 33% -> a Real Estate Agent
– 9%    -> from a yard sign
– 1%    -> from newspaper
That is almost half of everyone looking for a new home. Having a strong Internet strategy is crucial.
3. Selling Your Own Home Has Become More and More Difficult
Paperwork, paperwork, paperwork. The paperwork involved in a transaction of selling and buying a home has increased dramatically as the list of industry disclosures and regulations have become mandatory. This is one of the reasons that the percentage of people selling their own home has dropped from 19% to 8% over the last 20+ years. And this represents the lowest recorded figure since NAR began collecting data in 1981.
4. Protecting Yourself VS Taking The Risk
Having a professional deal with the paperwork is already an advantage. But knowing someone is looking out for you at every step is something priceless. Real estate agents are trained to handle any situations that may arise from different appraisal values of your home to renegotiations. Having someone you can trust, who has your best interest and is focused on the best outcome will yield the most positive outcome.
5. You Save More Money When You Partner with an Agent
Many home sellers believe that they will save the commission given to real estate agents by selling on their own. They will then realize that the main reason buyers look at FSBOs is because they also believe they can save the real estate agent's commission. The seller and buyer can't both save the commission.
In a recent study, the typical house sold by the homeowner sells for $210,000 while the typical house sold by an agent sells for $249,000. This doesn't necessarily show that an agent can get $39,000 more for your home as studies have shown that people are more likely to FSBO in markets with lower price points. However, it does show that selling on your own might not make sense.
Going on the FSBO path is a critical and significant decision to make. Make sure that you do your research and consider all the options before getting to that final decision.
If you are planning to buy or sell a home, let The Incorvaia Team make the process as easy as possible for you. Call us at 440-879-7130 today!