Thousands Join Strongsville Memorial Day Parade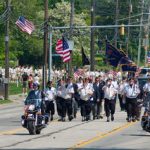 Thousands of people turned out to gather and view the Memorial Day Parade held on Monday, May 30 in Strongsville. The Parade began promptly at 11am at St. John's Church on Pearl Road and headed south, then turned left down the Freedom Trail next to the Strongsville Historical Society. It ended at the gazebo on the Freedom Trail where a ceremony honoring military veterans was held. Residents young and and old, male and female lined the parade route waving flags and saluting Old Glory as Strongsville police on motorcycles led the contingents up Pearl Road.
Mayor of Strongsville Thomas Perciak began the ceremony at the gazebo with a solemn speech, saying, "Memorial Day was born of our shared human need to understand, remember and honor those who died so that we may live as free men and women. Memorial Day is at once a day of remembrance, mourning and celebration. Those we honor today are gone in the sullen and dark of death. We are left with the difficult duty to properly honor those who died for freedom. They died and we lived. They are lost forever and we enjoy each day the gift they gave us at the greatest price."
A wreath laying ceremony also took place at the Freedom Trail Memorial. The first wreath was laid by Daughters of the American Revolution, followed by VFW Post 3345 in the Veterans of Foreign Wars wreath laying ceremony. The monument represents the resting place of servicemen and women throughout the years.
State Sen. Tom Patton, who also attended the event and lost his son, a Cleveland Heights police officer, in the line of duty in May 2010, spoke about thanking those that continue to serve so that we can remain free.
"Every day we need to go up to someone in the service and say thanks," he said. "I think that means a lot to those folks."