Tour Cleveland's Best Alfresco Dining Destinations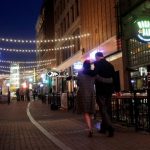 You may have heard of a pub crawl or the term "bar-hopping", where one goes on a "tour" of several bars in an area in a single night, usually by walking to each one between drinking. Well, now is the season to try going on a patio crawl, and touring some of Cleveland's best neighborhood alfresco dining destinations. Certain areas in Cleveland have so many great patios its almost impossible to choose just one, so why not make an evening of it and try them all? Here are a few places worth checking out.
East Fourth Street, considered the number one spot in Cleveland for alfresco dining and drinking, is probably the best place to start. This short pedestrian street with its twinkling overhead lights and brick paving features a diverse range of restaurance choices from Italian, Vietnamese and Mexican fare to upscale pub grub. Every place is different and worth paying a visit as each offers a different cuisine, cocktails and its own unique vibe. Try Flannery's Pub–a cool and sporty Irish pub, Chinato–which serves modern rustic Italian cuisine, Saigon–where you can enjoy elegant Vietnamese dishes and drinks on its tiny patio, and House of Blues–for its classic Southern fare, cheap brews and laidback party vibe.
Visit Zocalo if you want to experience a Mexican fiesta inside and out–the whole bar becomes a party with the open floor-to-ceiling windows. Wonder Bar features a jazzy look to match its sound and serves some of the most potent drinks around. La Strada gives you a taste of a Mediterranean street part, with its summer cocktails and wonderful Moroccan mint tea. Indulge on a chocolate martini on the bustling patio of The Chocolate Bar, with its perfect view of all the action across Euclid Avenue on East Fourth Street. I also saved the best for last, The Greenhouse Tavern which just opened it's roof, and features an awesome menu, great drinks, and is a certified green restaurant in the City of Cleveland! Stop in to try some of Chef Jonathon Sawyer's finest creations!
With the weather getting warmer, it's the perfect time to spend a night on the town sampling the various unique flavors that Cleveland's best alfresco restaurants have to offer.