What to do When Receiving Offers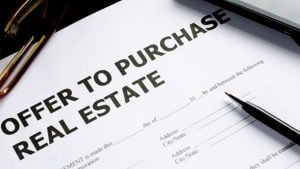 Your house is on the market and you have received an offer. What are some of the things you should consider when deciding whether to accept, reject or counter offer? First, remember that an offer isn't just a price for your house. Your potential buyer would have written a lot of other things into their offer, such as whether they want some of your appliances or other items such as lighting fixtures.
It's important to understand what's in the offer. It's not uncommon for buyers to want appliances such as your refrigerator, washer and dryer included in the home sale. Curtains are also a standard inclusion. Whatever the buyer wants, they can ask for in their offer. Look out for contingencies as well, like the buyer selling their home or needing loan approval. If either of these don't come through, they could create problems for you down the road.
Once you have thoroughly read and understood the offer, decide how you want to proceed. If the price is satisfactory to you–either at or above what you were hoping to get for your home–take a second look at the contingencies. If there are none and everything else about the offer is satisfactory, then you should probably accept. You could also counter offer to get the sale details just right.
However, if the price is right but the sale is contingent on the buyer selling his home, then you should probably consult your real estate agent to help you gauge the market. If you have a lot of other interested buyers, another better offer may come soon. But if it took a while to get this offer, you may want to take it despite the sale contingency, or counter offer for a little more because of it.
Maybe you've received an offer that is slightly lower than what you had hoped to get for your home, but the buyer is pre-approved and has no other contingencies. In this case, it might be a good idea to counter offer. Buyers sometimes submit offers that are lower than what they're actually willing to pay, so it's very possible that you can get a bit more for your home.
As always, it's a good idea to work closely with your real estate agent so they can guide you and give you advice on how to proceed when you receive an offer.
If you are planning to sell your home, let The Incorvaia Team make the process as easy as possible for you. Call us at 440-879-7130 today!